Go to the dentist before a sore tooth takes you there.
Four top reasons to look after your dental health
1. Avoid pain
Take control of your dental health and avoid problems before they start. Regular check-ups with your ADA dentist will help prevent dental issues that if left unchecked can become painful and affect your everyday life. Don't lose sleep or miss out on social occasions because you're in pain. A sore tooth can cause jaw, face, neck and head aches and can stop you from enjoying eating, speaking properly, playing sport and going to work.
2. Save money
Have regular check-ups and find dental issues early before they get worse. Get advice and resources from your ADA dentist about cleaning your teeth and gums, and healthy eating such as avoiding sugary foods and drinks. Keep on top of your dental health and prevent issues from turning into costly ones that may need more complex dental treatment.
3. Feel healthy all over
An unhealthy diet, puberty, menopause, diabetes, drugs and alcohol, smoking and many other issues can affect your dental health. There are links between blood pressure, heart disease and dental health, and untreated tooth decay can lead to heart and lung infections. Some medications can cause dry mouth which increases the risk of tooth decay and other dental issues. Have regular check-ups with your ADA dentist and let them know about any other health conditions, or medications you are taking.
4. Be confident
There's nothing better than a healthy confident smile. Don't be afraid of bad breath or bad impressions! Feel great knowing you have a healthy smile, give your teeth the attention they deserve and they'll thank you for it. Be confident at work, school or play!
Find a dentist
Finding your local Australian Dental Association Victorian Branch member dentist is easy. Just use our search tool to find a dentist and make an appointment.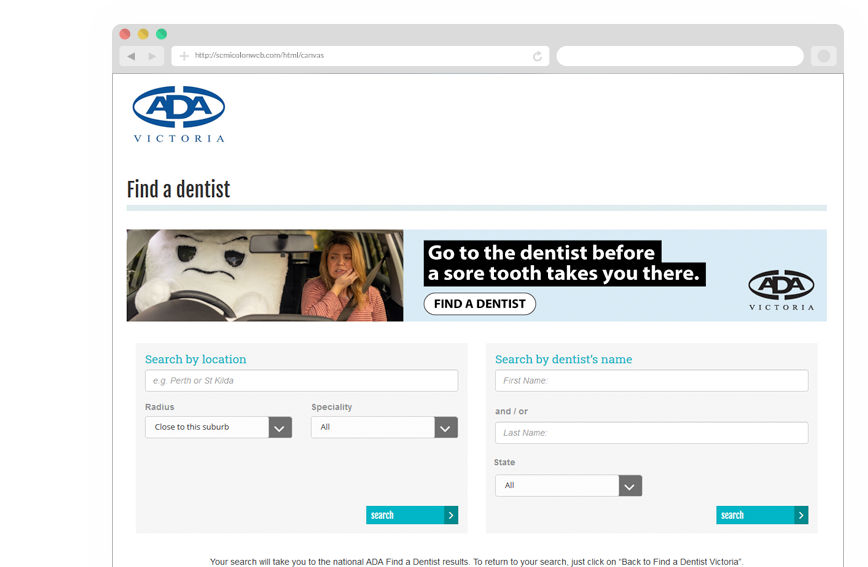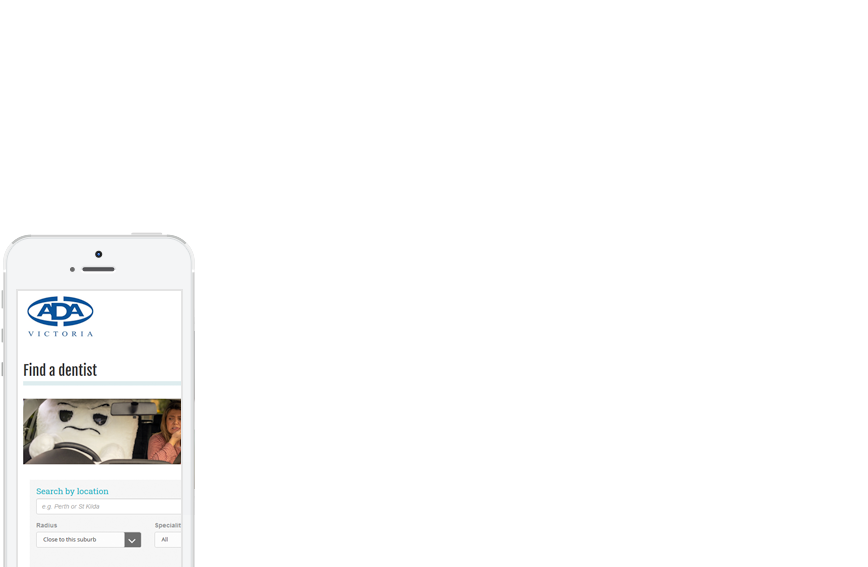 Find a local ADA dentist today! Click here
The right dentist for you!
Nearly eight in 10 Victorian dentists are members so you'll be sure to find the right dentist for you.
Better oral health
We're striving to improve the oral health of all Victorians.
Legislation & guidelines
We help dentists comply with important legislation and guidelines to provide safe dental care.
High quality training
We provide high quality training to help dentists learn the latest treatments and techniques.
Keep those teeth happy!
Keep your teeth happy with your local Australian Dental Association dentist
Find a dentist today